A portable language flashcard kit for the modern adventurer
Essential words and phrases for your next journey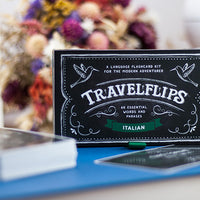 For explorers. By explorers.
We believe there is an explorer inside all of us — one that seeks out new places, new people and new cultures to understand and enjoy. We also believe that learning just a handful of foreign words can be the stepping stone to reaching new worlds of adventure, happiness, and friendship. 

That's why we have created Travelflips, a portable language flashcard kit for the explorer in each of us. It's compact, simple, and effective — the perfect accompaniment to your next trip.


Select a Language
Convenient. Effective.
Each Travelflips kit contains 60 essential words and phrases, carefully selected to give you the best head start to your voyage. You'll also find phonetic transcriptions and local proverbs that you can easily master to impress friends and locals. Beautifully crafted and built on some of the most successful techniques in language acquisition, Travelflips gives adventurers a stylish way to learn a new language.


Choose a Kit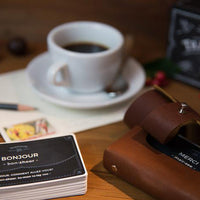 Select a Language
Travelflips kits are available in nine languages - Spanish, Italian,  French, German, Chinese, Japanese, Russian, Korean, and Hebrew.  And our team of professional, native-speaking linguists is bringing new languages to Travelflips soon!
Choose Your Style
Our Standard edition includes a beautifully designed case built for efficiency and durability. Deluxe edition includes a handmade, premium leather pouch - a vintage look that will only get better with age.

Learn with Ease
Travelflips flashcards are suited for all ages and experience levels. Study at your own pace, or follow the included guidelines to accelerate your vocabulary acquisition. Don't forget to refer to transliteration for an authentic sound!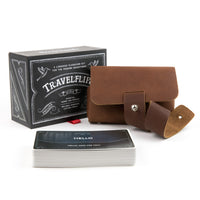 Travelflips Deluxe Edition
Travelflips Deluxe comes housed in a premium handmade leather case - a vintage look that will only get better with age. 100% natural, vegetable tanned leather is hand conditioned with ancient oil waxes, melted into a buffed grain surface. This type of leather, known as "crazy horse leather", exhibits an amazing vintage look and gives a tremendous amount of character to your leather case. 
select language
What Customers Say
Well-made, portable, very useful for travel. Nicely made box that actually invites you to use them, lol!

Arthur D.
Clear, easy, fantastic way to learn! Small enough to bring along in a purse or fanny pack for quick reference. 

Susan B.
Very easy to use. They were very clear, and easy to use and had a good vocabulary.

Bill R.